To help maintain our beautiful University environment and in preparation for the start of 2023, Property & Facilities Division (P&F) are asking that all staff participate in a general campus clean-up / de-clutter between Wednesday 25 January to Wednesday 8 February 2023. We have a shared responsibility for maintaining a safe, tidy and productive working and learning environments at UQ. Ranging from reviewing common spaces and identifying opportunities to de-clutter, tidy or dispose.
This could include:
Removing items from trafficable spaces such as pathways, building entrances, stairwells and corridors.
Looking for opportunities to optimise the use of space and improving the safety and aesthetics.   
P&F is supporting our campus clean-up by providing skip bins for the removal of large items between 25 January – 8 February 2023. Following the success of previous campus clean-ups we will be providing 10 skips on the St Lucia campus and 1 on the Herston campus as well as skips at Indooroopilly, Long Pocket, Pinjarra Hills and Gatton.
You must take into account health and safety regulations for manual handling, so if you have large items that you need assistance with, please log a REMOVALIST job in Archibus via your Archibus Nominated User and in your notes, please specify this request is associated with the Campus Clean-up Project. We will then arrange assistance either through our own resources or UQ's approved contractors. 
The skip bins are to be used for General Waste only.
Hazardous waste should not be disposed in the skip bins. To reduce waste, recyclable items should be disposed in their designated recycling bins (e.g. paper, cardboard, e-waste bins) and good quality furniture items should be uploaded to UQ WARPit. UQ WARPit is an online resource sharing tool which allows UQ staff to post unwanted items for donation or claim items for work purposes.
Refer to the Waste Procedures in the Environmental Management System (EMS) and the Recycling and waste website for more details.
Please ensure when using the skip bins, you pack items to maximise the volume of the skip.
Skip bin locations
Campus
Location
Gatton
Herston

In the carpark of OHC and Mayne Medical School

Indooroopilly

Carpark next to Building 0632

Long Pocket
Pinjarra Hills

St Lucia

(see map below)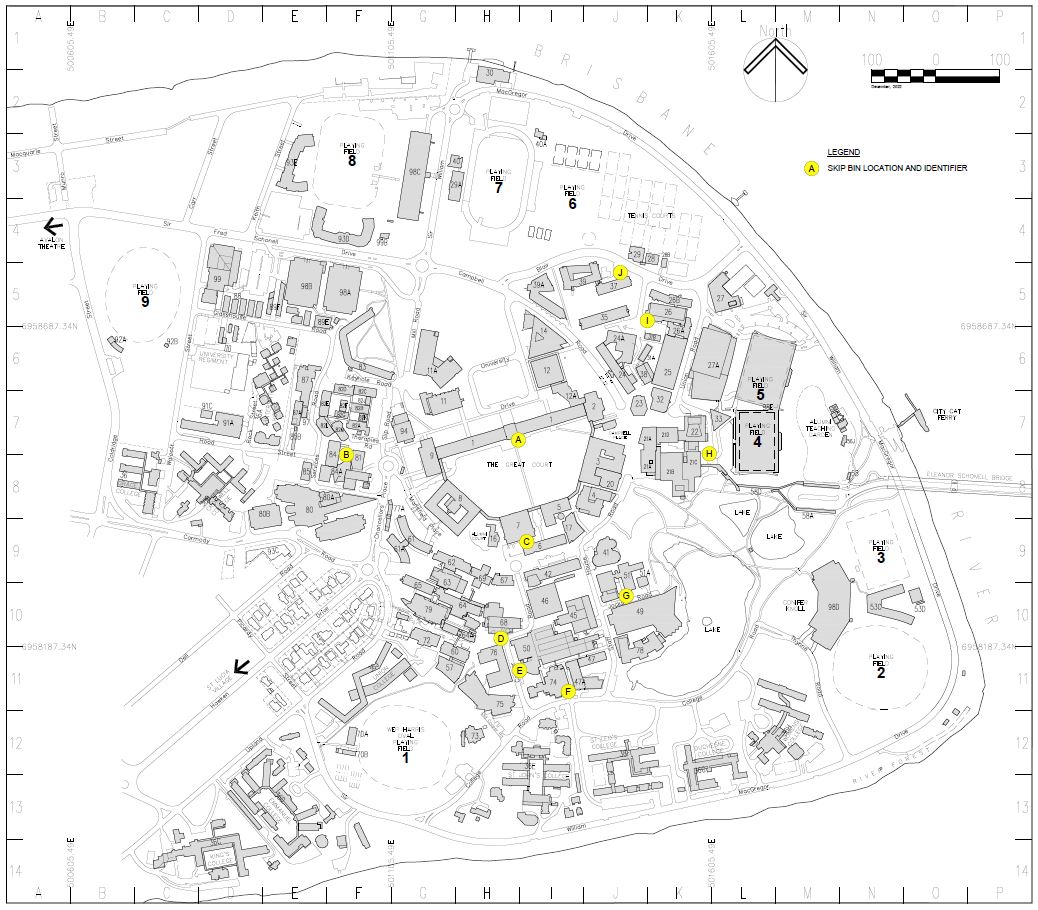 About Campus beautification
UQ's beautiful campuses showcase Australia's wildlife and rich biodiversity intermingled with our teaching and research facilities.
We're very proud of our grounds and like to keep our environment looking its best with regular groundskeeping as well as special events to target specific areas.
Throughout the year we have a series of landcare, clean up, tree plantings and bush care regeneration activities drawing groups of volunteers.
All are welcome including staff, students and the broader community.  Come and join us at our next event!